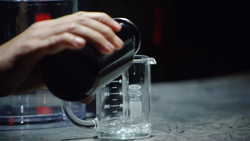 Alcohol referred to Ethanol in certain beverages which is consumed for a variety of hygienic, dietary, medicinal, religious, and recreational reasons. The consumption of large doses of ethanol causes drunkenness (intoxication), which may lead to a hangover as its effects wear off. While at a Nightclub, and in the bodies of Dr. Williams and Dr. McCormack, Eli Wallace and Chloe Armstrong drank alcoholic beverages, leading Chloe to become intoxicated when she discovered that her boyfriend, Josh, had moved on quickly to her friend, Celina. She most likely left McCormack with the hangover the next morning when she switched back. (SGU: "Earth")
Ad blocker interference detected!
Wikia is a free-to-use site that makes money from advertising. We have a modified experience for viewers using ad blockers

Wikia is not accessible if you've made further modifications. Remove the custom ad blocker rule(s) and the page will load as expected.