"Avenger 2.0" is the ninth episode of the seventh season of Stargate SG-1.
After his job is threatened, Dr. Jay Felger desperately plans on Avenger, a computer virus that could render a Dial Home Device useless to keep his position in Stargate Command. However, the plan goes awry, as soon, every Stargate in the Milky Way is affected, caused by the virus, which puts the entire galaxy into a stand still.
Previously on Stargate SG-1Edit
Dr. Jay Felger and Dr. Simon Coombs ring aboard Khonsu's Ha'tak in an attempt to save a captured SG-1. After arriving on Khonsu's World, Felger and Coombs release SG-1 from their cell and fight their way to the Stargate and return to Earth.
Dr. Jay Felger and his assistant Chloe Angstrom are working on some kind of Plasma weapon at Stargate Command. Felger tells his assistant about the time when he rescued SG-1 from Her'ak (see "The Other Guys"), when suddenly Colonel Jack O'Neill and Major Samantha Carter appear. He presents them his new weapon, which should be used one day on Prometheus as an energy weapon. However when he activates it burns out and causes a power failure on the whole base. Afterward, Felger talks with Major General George S. Hammond about his work and Hammond tells him that although Felger assured him that he will give them something, he created nothing in the last six months. So Felger tells him that he is working on something and Hammond tells him that he has 24 hours to present his creation.
Afterward, Felger talks with Chloe who tells him that he can't create something in 24 hours, however Felger tells her that he has Avenger and starts to work on it. On the next day he presents his idea of a computer virus which will cause chaos in the Stargate system to Carter and she is interested. Later, she decides not to take part on a mission with SG-1, although O'Neill is not interested in Felger's work.
While Felger works on a diorama at home, he is visited by Carter, who tells him that the General allows further research on the virus and that she will work with him on the virus. They then start to work on it at SGC and after some time decide to test it on a real gate in Ba'al's territory and wait on an answer from a Tok'ra spy. During the test however they contact SG-1, who missed a scheduled contact. O'Neill tells them that they can't dial the gate and they think that it is Felger's fault. While they search for the cause of this problem, the Tok'ra contact them and report about a series of malfunctions in the gate system. Afterward, Carter gets some data and finds out that the virus started to spread through the gate system thanks to the correlative update system which compensates for stellar drift.
Later, SGC calls back all off-world teams but several teams can't come back because the entire gate system has gone offline and now only SGC can dial anywhere. Later O'Neill reports and tells them that the negotiations in which they were taking part went awry but then they are attacked and the contact breaks down. Carter, Felger and Chloe work on a solution of the problem and Carter is informed that Ba'al started to attack the other System Lords since he has the largest fleet. Afterward Carter talks with Felger about the situation and when she tells him about an incident from a few years ago he comes up with a solution, which however doesn't work.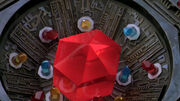 Carter later informs Hammond that Felger has left the base since the pressure has become too much. Carter finds him at a bridge and starts to talk with him about the problem and they again try to find a solution. They then conclude that they have to go to the planet to which they sent the virus and both Felger and Carter volunteer to go there. Afterwards Felger says goodbye to Chloe who kisses him.
Both Carter and Felger then leave for the planet, where they start to work on the Dial Home Device. However Felger soon finds out that Avenger was tampered with and Carter concludes that it was Ba'al, since he gained most when the gate system went offline. Now Felger has to work on a new antivirus system when suddenly Jaffa appear, whom Carter fights. Suddenly an Al'kesh appears which fends off the Jaffa. Later, O'Neill and Teal'c of Chulak ring down and are enthusiastically greeted by Felger. Felger is then able to solve the problem and they return to SGC, where they inform Hammond about what has happened.
Later Felger daydreams how Chloe kisses him passionately when suddenly O'Neill and Carter appear and see them. Carter then attacks Chloe and while the two women fight Felger's dream is disturbed by Chloe and they go back to work.
References
Edit
Al'kesh; The Amazing Avenger!; Avenger; Ba'al; Bolivia; Butch Cassidy and the Sundance Kid; Correlative update system; Control crystal; Dial Home Device; Doughnut; Duck; Flash; Goa'uld; Her'ak; Jaffa Rebellion; K'Tau; MALP; Micro 16 assault rifle; Mining Operations; Naquadah; Nobel Prize; Jonathan J. O'Neill's Al'kesh; P3C-249; P5S-117; P4F-221; P3L-997; Prometheus; Skirmish on P5S-117; Staff cannon; Star Trek; Stellar drift; Thellas; Tok'ra
Notable Quotes
Edit
O'Neill: I told you not to trust that brown-nosing little weasel!
Felger: He doesn't know I'm standing here, does he?
Carter: Look, Jay, I know you feel bad about this.
Felger: What's to feel bad about? I mean, it probably took the Ancients a thousand years to build the gate system, and I wrecked it in a single day! Not to mention the fact that I've isolated us from all the offworld resources we're gonna need to defend ourselves, leaving us sitting ducks when the next Goa'uld attack. (laughs) But who cares.
Hammond: Have you and Dr. Felger made any progress?
Carter: I can't find him.
Hammond: Excuse me?
Carter: Apparently Dr. Felger has left the base. I think the pressure was getting to him.
Hammond: I thought you said all he needed was a little support.
Carter: Yeah. I may have been wrong about that. Okay, I admit it. He's a complete screw-up. He makes rash decisions based on sketchy evidence, he's clumsy in the lab, he's always late. And, quite frankly, it wouldn't kill him to ease up on the aftershave. But the fact is, sir, he's at Stargate Command because he's a brilliant scientist. And no one understands that virus better than he does.
Felger: We're kinda like the intellectual Butch and Sundance of the SGC.
Carter: Butch and Sundance got cornered and killed by the Bolivian Army.
Felger: That's a good point.
Felger: You know, before I joined the SGC my idea of a high-pressure situation was defending a mathematical thesis in front of a room full of middle-aged, balding men. I don't do so well when the fate of the Universe is hanging in the balance now.
On the DVD commentary, Martin Wood pronounced the title of this episode as "Avenger Two Point Zero", rather than "Avenger Two Point Oh".
While preparing to go off-world to delete the Avenger virus, Dr. Jay Felger packs a roll of duct tape, which is shown briefly but prominently in the foreground at the beginning of the scene. On the DVD audio commentary for the episode it is revealed to be a reference to The Red Green Show, which featured Patrick McKenna (Felger) in a regular role.
According to the DVD commentaries, the weapon Major Samantha Carter uses in this episode (referred to as the Carter Special) was created because the show could not use FN P90 Personal Defense Weapons as the war in Iraq made getting hold of the blank rounds difficult.
Carter writes code of the virus in the programming language C#, with Windows APIs.
Chloe Angstrom's math is somewhat funny: She states "7 symbols chosen from a pool of 38 non-repeating candidates, that's about... [pause] 63 billion possible combinations".

First, the gate has 39 glyphs, with one being the point of origin. If she is excluding the POO, then the rest of the address has 6 symbols, not 7. It may be that due to the virus, the POO's are also scrambled, but then random dialing would amount to selecting 7 symbols from a pool of 39, not of 38. The combination of parameters she has chosen does not seem to correspond to any useful dialing procedure.
The phrasing would be more accurate if she said "X non-repeating symbols chosen from a pool of Y candidates." Her actual choice of words seems to imply that the candidates in the pool are non-repeating, rather than the selection. But that is self-evident, as if the candidates in the pool were repeating, then repetitions would not constitute distinct candidates, making including them in the count redundant. What Chloe probably wanted to say was that the choice rule is non-repeating, i.e. that a gate address cannot have the same symbol twice (let us assume that is true, but addresses were seen that had two instances of a single symbol in them); that is an important distinction to make, as the result of the calculation would obviously be quite different if the choices were allowed to repeat.
For Chloe's stated parameters, the solution is the cardinality of the set of 7-permutations without repetition of 38 unique elements, which is ~63.606 billion. This is actually closer to 64 billion and should therefore be rounded to it (although Chloe probably deserves some slack here, as she did calculate it by heart).
For the two correct parameter sets, the solutions are: ~77.520 bn. combinations if the POO is scrambled (selecting 7 out of 39 without repetition), and ~1.988 bn. if the POO holds (selecting 6 out of 38 without repetition).

As with the prior Felger episode, "The Other Guys", Felger's habit for day dreaming and the comical nature of the episode leaves open the question of whether or not Felger imagined the entire affair. However, it is mentioned in "Grace" that the Prometheus is using a hyperdrive core stolen from an Al'kesh, presumably the same one Colonel Jack O'Neill and Teal'c stole in this episode. Also, there is dialogue where Carter reminds O'Neill that Felger saved their lives which suggests the events of that episode were not, at least in part, a day dream. The events of this episode were not confirmed to have actually happened until "Inauguration", which references Ba'al's plot. The producers have commented that they didn't realize the ending would leave so much of the episode in doubt. It's confirmed in "Reckoning, Part 2" when Carter and Ba'al discuss using a similar method to what Ba'al used here to dial every Stargate in the galaxy for the Dakara superweapon.
Dr. Jay Felger (Patrick McKenna) first appeared in Season 6's "The Other Guys". He pretends to be on the phone with his friend Dr. Simon Coombs from that episode when Carter catches him on the phone with his mother.
Michael Shanks (Daniel Jackson) only appears in two scenes while Christopher Judge (Teal'c) only appears in three scenes and has only two lines of dialogue.
Terrance Leigh (Jaffa) previously played Abydonian in the Stargate SG-1 episode "Full Circle".
When Felger takes off his backpack after arriving to the planet, he holds the handgun in the most unsafe way - regardless of the hand he holds the gun with, he keeps his finger on the trigger, and it looks like he is gripping it quite tightly, which could result in the gun firing unintentionally. Thankfully, the gun was either unloaded or an inert prop, so there was no chance of an accidental shot.

He does it again when the Jaffa attack, but this time he is pointing the gun at a rock, which would be much more dangerous because of the ricochet and rock debris.
In other languages
Edit
French: Le Vengeur (The Avenger)
Italian: Rete Bloccata (Blocked Network)
Spanish: Vengador 2.0 (Avenger 2.0)
Czech: Mstitel (The Avenger)
German: Avenger 2.0 (Avenger 2.0) (dubbed in English)
Hungarian: Avenger 2.0 (Avenger 2.0) (dubbed in English)
Japanese: 僕のアヴェンジャー (Avenger 2.0)
External links
Edit