Ad blocker interference detected!
Wikia is a free-to-use site that makes money from advertising. We have a modified experience for viewers using ad blockers

Wikia is not accessible if you've made further modifications. Remove the custom ad blocker rule(s) and the page will load as expected.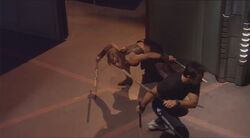 Bantos fighting is a fighting style used by Teyla Emmagan and the Athosians. It makes use of either one, or two sticks called Bantos rods. Teyla teaches the style to many members of the Atlantis expedition including Major John Sheppard and Dr. Harriet Hewston. (SGA: "Hot Zone", "Sunday")
When looking for the missing Athosians, Dr. Jennifer Keller and Teyla Emmagan are attacked by three Bola Kai warriors, but Teyla is able to defeat them using her expertise in Bantos fighting. In lieu of Bantos rods, Teyla used a large stick in one hand, and a blade in the other. (SGA: "Missing")
Although Bantos fighting is prevalent throughout the Stargate: Atlantis episodes, it went unnamed until the season three episode, "Sunday".
Bantos fighting is similar to Escrima, a Martial Art there the user employs one or more rods to subdue their opponent. Similarly to Teyla's use of a blade, each technique in Escrima can be done using a rod, knife or empty-handed, making it a versatile form of fighting.
Related articles
Edit