Barnes was a Corporal in the United States Marine Corps, who was assigned to the Icarus Base in 2009.
Biography
Edit
In 2009, she and 80 others fled the base after an attack against the base, and evacuated to the Ancient ship Destiny. (SGU: "Air, Part 1")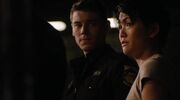 Barnes was part of the team to go to the Tick planet with Lt. Matthew Scott, Airman Dunning, Dr. Dale Volker and Lt. Vanessa James. She was the only one of the team not to get affected by the Alien ticks. (SGU: "Pain")
Upon seeing a recording that detailed the alternate timeline relationship between Barnes and Eli Wallace, Chloe Armstrong suggested that Eli should think about pursuing a similar romance, since it obviously worked on Novus. (SGU: "Epilogue")
Alternate timelines
Edit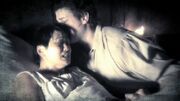 Behind the scenes
Edit
External links
Edit
Ad blocker interference detected!
Wikia is a free-to-use site that makes money from advertising. We have a modified experience for viewers using ad blockers

Wikia is not accessible if you've made further modifications. Remove the custom ad blocker rule(s) and the page will load as expected.