Ad blocker interference detected!
Wikia is a free-to-use site that makes money from advertising. We have a modified experience for viewers using ad blockers

Wikia is not accessible if you've made further modifications. Remove the custom ad blocker rule(s) and the page will load as expected.
"Wanna go double or nothing?"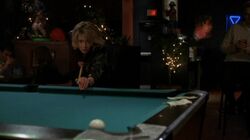 Billiard is a game of skill usually played with a cue stick and colored billiard balls, moving them around a cloth-covered billiards table bounded by rubber cushions.
Samantha Carter played a game of billiard against Big Guy at O'Malley's Bar & Grill. At the time she was under the influence of the Atanik armbands. Carter won the game easily. (SG1: "Upgrades")
External link
Edit