Debora Dunphy
Biographical information
Alias

Debra Dunphy

Gender

Female

Stargate universe information
Title(s)

digital effects supervisor
digital compositing artist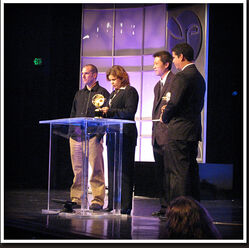 Debora Dunphy is a digital effects supervisor & digital compositing artist for Stargate SG-1 and Stargate: Atlantis. She is award-winning VFX artist. She won Gemini Award in 2007 (for SGA) & Visual Effects Society Award (2009).
Lead Digital Effects Compositing Artist
Edit
External Links
Edit
Ad blocker interference detected!
Wikia is a free-to-use site that makes money from advertising. We have a modified experience for viewers using ad blockers

Wikia is not accessible if you've made further modifications. Remove the custom ad blocker rule(s) and the page will load as expected.