Ad blocker interference detected!
Wikia is a free-to-use site that makes money from advertising. We have a modified experience for viewers using ad blockers

Wikia is not accessible if you've made further modifications. Remove the custom ad blocker rule(s) and the page will load as expected.
Extrenite
Societal information
Species

Extrenite

Out of universe information
First appearance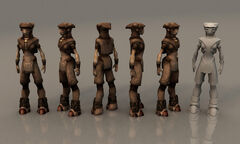 Behind the scenes
Edit
This race would have appeared in the canceled game The Alliance. According to the artist responsible for the images of this race, "The peaceful extrenites that got exterminated by the haaken in the Stargate game." "These guys where simple background characters - that basically got slaughtered lol."
External links
Edit
http://hazardousarts.deviantart.com/art/Stargate-SG1-Female-Extrenite-75179052 http://hazardousarts.deviantart.com/art/Stargate-SG1-Extrenite-Male-75181567