Frank Mitchell
Biographical information
Race
Home planet
Gender

Male

Political information
Allegiances
Out of universe information
Appearances
Actor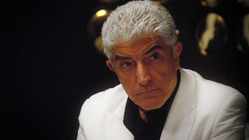 Frank Mitchell is a male Tau'ri, father of Colonel Cameron Mitchell and son of Captain Mitchell. He lives in Auburn, Kansas. He was a test pilot until an accident resulted in the loss of his legs.
Biography
Edit
Background information
Edit
When Captain Cameron Mitchell had a failed bombing run in Afghanistan that killed several refugees, he convinced him to stay in the Air Force. (SG1: "Collateral Damage")
He hosted Cameron and Vala Mal Doran when they were in town for Cam's high school reunion. (SG1: "Bounty")
Behind the scenes
Edit
Ad blocker interference detected!
Wikia is a free-to-use site that makes money from advertising. We have a modified experience for viewers using ad blockers

Wikia is not accessible if you've made further modifications. Remove the custom ad blocker rule(s) and the page will load as expected.