Ad blocker interference detected!
Wikia is a free-to-use site that makes money from advertising. We have a modified experience for viewers using ad blockers

Wikia is not accessible if you've made further modifications. Remove the custom ad blocker rule(s) and the page will load as expected.
Freyr
Biographical information
Race
Home planet

Unknown

Gender

Asexual Clone (Male Personality)

Died
Political information
Rank

Councilor

Allegiances
Out of universe information
Appearances

"Red Sky"
"Fail Safe"
"Revelations"


Actor

Brian Jensen (voice and hologram)
"I am Freyr. Protector of the K'Tau world."
―Freyr
Freyr is a member of the advanced Asgard race and has a position on the Asgard High Council.
Biography
Edit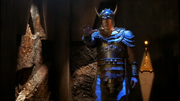 SG-1 first encountered Freyr on K'Tau, whose inhabitants worshiped Freyr as their god, just as Cimmeria's worshiped Thor. SG-1 used K'Tau's equivalent to the Hall of Thor's Might to contact Freyr so they could discuss repairing the damage to the K'Tau sun. Freyr was generally personable when meeting SG-1, but was distressed upon learning the damage they caused, and arranged for Colonel Jack O'Neill to address the Asgard High Council on the matter. (SG1: "Red Sky")
Freyr is mentioned again when SG-1 meets with the Asgard High Council about a Naquadah asteroid threatening earth. Freyr and the rest of the Asgard High Council cannot intervene because the Protected Planets Treaty does not allow them to be protected against natural disasters. A frustrated Colonel Jack O'Neill then made some inappropriate references to Freyr's mother. (SG1: "Fail Safe")
Later that year, Freyr visited Earth personally to ask SG-1 to rescue Heimdall and her research materials. He also informed them that Thor was missing in action over Heimdall's planet. By this point, SG-1 was able to recognize him by sight. At the climax of the rescue mission, Freyr commanded an Asgard Fleet which confronted Anubis's motherships, saving SG-1, Heimdall, and Supreme Commander Thor. (SG1: "Revelations")
Presumably, Freyr was with the rest of the Asgard when they destroyed their planet in an act of mass suicide. (SG1: "Unending")
Behind the scenes
Edit
External links
Edit