Grace Under Pressure
Talk

4
10,018pages on
this wiki
"Grace Under Pressure" is the fourteenth episode of the second season of Stargate: Atlantis.
Dr. Rodney McKay's Puddle Jumper crashes into the ocean on route back to Atlantis and is slowly sinking. While, Dr. Radek Zelenka and Lt. Colonel John Sheppard find a way to save him, McKay hallucinates Lt. Colonel Samantha Carter to keep him company.
Dr. Rodney McKay and Captain Hugh Griffin are flying from the mainland back to Atlantis. McKay is worried about the ship, considering it's the first flight its had since it was shot down. ("Condemned") All seems to be going well until they experience a malfunction and the ship crashes into the ocean.
About an hour later, Griffin and McKay wake up to
Dr.
Radek Zelenka
's relentless radio calls. McKay had suffered a blow to his forehead and was bleeding. They realize that the ship had sunk about 1200 feet and was sinking at the rate of 20 feet a minute. Suddenly the windshield started to give way to the pressure of the ocean. McKay
immediately heads for the rear compartment and tries to seal the bulkheads, except the switch was damaged. Leaving McKay in the rear compartment, Griffin stumbled into the front compartment and pushed the switch right before the windshield shattered, sacrificing himself. Griffin is (most likely) crushed by the intense water pressure. Up on the surface, Zelenka tries to pinpoint McKay's location while
Lt. Colonel
John Sheppard
tries to find a way to lift the sinking
Puddle Jumper
from the ocean.
Back in the Jumper, McKay tries to stave off his claustrophobia and save himself. Turning on the emergency transmitter, he discovers that he only has 3 hours of power left in the Jumper because the inertial dampeners were using up most of the power. McKay immediately commits to the idea of doom.
Suddenly, Lt. Colonel Samantha Carter appears to McKay in his hallucinations. After taking a moment to take in the fact that he's hallucinating, and her amazing cleavage, Carter explains to him that she's there as a hallucination to help him and due to the rather bad concussion on his head.
Back in Atlantis, Sheppard suddenly has a bright idea. If they can turn the Jumper's cloak into a shield like the Atlantis' shield was turned into a cloak, they could dive even deeper. Zelenka informs him that it would take up a lot of power and shutting down anything they don't need would take hours to reconfigure. Sheppard suggests that they make the changes as they get down there.
McKay's Jumper hits the bottom. Sadly, Carter points to the bottom of the Jumper. The Jumper is taking in water.
Finally onto something, Zelenka manages to get the shield up and running. Under the pressure of the ocean, the shield is continually draining power. They have about 30 minutes if the shield continues to drain power.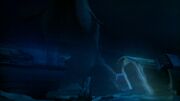 Sheppard notices that the monster seems to be circling the same area over and over again, which means it probably found something interesting. They find the Jumper beneath the area the monster was circling. Zelenka realizes that they can extend the shield between the two Jumpers and just walk between them. They retrieve McKay from Jumper 6 and as they return to theirs, the gigantic whale creature majestically swims overhead. Setting him down in the rescue ship, McKay looks to Carter, who is smiling and waving.
References
Edit
Atlantis database; Barcelona; Chocolate; Christopher Columbus; Cloak; Edgar; Europe; F-302 fighter-interceptor; Flagisallus; Flashlight; Hallucinations; Inertial dampener; Italy; Jumper 6; Jumper bay; Lantea's mainland; Lantea's ocean; Life support; M8R-169; Mexico; McNabb; Moore; Oceanographic studies; Peanut butter; Puddle Jumper; Sam; Shield; Spain; Submarine; Tomato; Whale
Notable Quotes
Edit
Griffin: So, let me ask you something. As a scientist does it bother you that most of your work, no matter how brilliant, will eventually be considered misguided? 'Cause that would bother me.
McKay: I'm sorry?
Griffin: Well, given enough time, everything's pretty much proven wrong, right?
McKay: No.
Griffin: Everything from the Earth being flat and the sun revolving around us?
McKay: Well, if you wanna go back hundreds of years…
Carter: Why else would I be here?
McKay: I don't know! Maybe one last romp before I die.
Carter: One last romp?! Please, we never...
McKay: Okay, one first romp, but it's romping that comes to mind, not your brains, blondie. Now, you've gotta admit, I am a handsome man standing...
Carter: You're essentially arguing with yourself. You realize that, right?
McKay: We make a good team, you and I.
Carter: Sure...
McKay: No, no I mean it. I really enjoy working with you, always have.
(Carter nods)
McKay: I wonder... I wonder why we never... hooked up?
Carter: Well aside from the fact that you're petty, arrogant and treat people badly?
McKay: ...Yes?
Carter: No, that's pretty much it. Petty, arrogant, bad with people.
McKay: You gonna help me, or not?
Carter: I'll help you stay alive as long as possible, but no – I'm not helping you with this plan.
McKay: So my own hallucination is saying no to me?!
Carter: You must realize subconsciously that you need to be talked out of this.
McKay: I can't even hallucinate right today!
(Carter is pressing herself against McKay)
McKay: What are you doing?
Carter: For warmth...
McKay: Y...y...you're not physically here, y...you can't transfer any heat.
Carter: Doesn't mean I can't get you hot!
McKay: (about Carter seducing him) I know what you're trying to do!
Carter: Well, I should hope so.
McKay: You're trying to slow me down again!
Carter: Actually I'm trying to do the opposite.
McKay: No, no. You're distracting me. You know I've only got a couple of minutes to execute my plan and you're doing the one thing you know could possibly slow me down!
Carter: You're thinking too much. Come here.
McKay: No. No, I'm not gonna fall for your plan, Lieutenant Colonel Siren!
When Dr. Rodney McKay and Captain Hugh Griffin are debating the progress of science, the pilot brings up, amongst other things, that Christopher Columbus proved that the Earth was round, which is in fact a common myth, and people have known since ancient times that the Earth was round - Columbus (incorrectly) merely disagreed about its size.
The sea monster species is later named Flagisallus and it makes a reappearance in the later episode "Echoes".
The Season 7 Stargate SG-1 episode "Grace" involves a similar situation where Major Samantha Carter is trapped aboard the Prometheus and has several hallucinations. It is likely that the title of this episode is a reference to that one (Grace) and to the fact the Jumper is at the bottom of the ocean (Under Pressure).
The title of this episode may also reference the album "Grace Under Pressure" by Canadian rock band Rush as McKay is Canadian.
Ernest Hemingway once famously defined "guts" or "courage" as "grace under pressure" in a letter to F. Scott Fitzgerald. "Grace under pressure" specifically means you show courage when faced with pressures such as death, the public eye, or competition.
McKay's hallucination of Lt. Colonel Samantha Carter is mentioned in the Stargate SG-1 episode "The Pegasus Project".
In a later episode of the season, Jumper 6 is mentioned. This is most likely one of the new jumpers from "The Tower" as opposed to the damaged jumper at the bottom of the ocean, as Dr. Radek Zelenka claimed it would be near impossible to raise given its depth and the fact that it would be full of water once the rescue Jumper's shield was removed.
McKay refers to the hallucination of Carter as "Lt. Colonel Siren" when she tries to distract him. This is a reference to mythological Sea Sirens which would tempt sailors towards them causing their ships to crash onto rocks.
The character of Captain Hugh Griffin was named for a friend of Martin Gero.
Rachel Luttrell (Teyla Emmagan), Jason Momoa (Ronon Dex) and Paul McGillion (Dr. Carson Beckett) do not appear in this episode. This is the first episode in which Rachel Luttrell does not appear.
Dr. Zelenka states that he knows the direction of the radio signal, but not the range. In reality, because radio is an undirected transmission, it is a lot easier to determina range than direction.
Granted this episode takes place on another planet, but on Earth the sea floor is less than 5 degrees Celsius (40 degrees Fahrenheit). Being submersed at this temperature causes the human body to shed heat 25 times faster than air. The average person would become exhausted or unconscious in as few as 15 minutes. This is assuming that they were warm to begin with but Dr. Rodney McKay was cold when he was in a dry environment and then spent an unspecified amount of time wading before he was submerged up to his head. Loss of dexterity occurs within 3–5 minutes at these temperatures. He would have been unable to open the hatch or even comprehend what was going on. Survival would have been very unlikely. At the very least he would have required immediate warming and medical attention by the time he was rescued.
The blood from McKay's head wound never really washed off even after multiple submersions.
It would be impossible to scrub the CO2 out of the air if the CO2 scrubbers were located anywhere other than the ceiling.
After the door to McKay's Jumper is opened and the water has drained out, the shot shows the Jumper as having no water left inside it. This would be impossible as the Jumper landed on the sea floor with its front end leaning over a cliff at an angle of about 15 to 20 degrees. This would mean that opening the rear doors would only drain water to the doors bottom frame and leave water in the remaining front.
McKay's head wound makeup seemed to have issues, as the edges were very obvious throughout the episode. They had not blended them well. You can see the edges of what was likely a silicone appliance on his forehead, and the edges are lifting quite obviously at the top and bottom, and were not blended well on the remaining edges. (It's understandable that there was an emergency medical kit in the jumper, and he simply applied a patch, it looks more like a bandage than anything else).
Nominations
Edit
Nominated Primetime Emmy for "Outstanding Music Composition for a Series (Original Dramatic Score)" (Joel Goldsmith)
First appearances
Edit
Character
Edit
External links
Edit