Ad blocker interference detected!
Wikia is a free-to-use site that makes money from advertising. We have a modified experience for viewers using ad blockers

Wikia is not accessible if you've made further modifications. Remove the custom ad blocker rule(s) and the page will load as expected.
Joseph Mallozzi
Biographical information
Alias

Joe Mallozzi
Joseph Mallozi

Nickname(s)
Date of birth

October 16, 1965 (age: 50)

Place of birth

Montreal, Canada

Gender

Male

Nationality
Marital status

Married

Other information
Official site
Notable credit(s)

Writer, "Window of Opportunity"

Stargate universe information
Title(s)

Writer
Executive Producer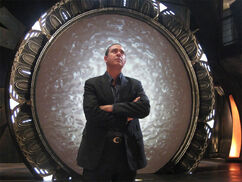 Joseph "Joe" Mallozzi is an executive producer and writer for Stargate SG-1, Stargate: Atlantis, Stargate Universe, and the indefinitely shelved movie Stargate: Extinction. He co-writes all his Stargate related projects with Paul Mullie.
Joe and Paul joined the Stargate SG-1 crew as writers and producers at the beginning of Season 4. The first episode written by them, "Window of Opportunity", is a well known fan favourite for the entire series. The two joined Robert C. Cooper and Brad Wright as executive producers at the beginning of SG-1 Season 7 and their roles continued through the production of Stargate: Atlantis.
Joe has also been writing a daily wordpress blog since November of 2006. In it he discusses fine cuisine, his dogs, writing and various behind-the-scenes aspects of the Stargate shows. He often answers reader questions and hosts a book of the month club, usually in the Sci-Fi/Fantasy genre. Occasionally, a guest blogger will answer questions that are submitted by readers. Previous guest bloggers include: Sci-Fi/Fantasy authors, actress Amanda Tapping, executive producers Robert C. Cooper and Brad Wright, writer/director Peter DeLuise and many others.
Joe also won, in 2010 the Stargate Ice Cream Throwdown, competing against Rob. Joe won with the stats 2-1-1 (Two wins, one loss and one tie).
Co-Producer
Edit
Supervising Producer
Edit
Co-Executive Producer
Edit
Executive Producer
Edit
Consulting Producer
Edit
The Producers Wish to Thank
Edit
External links
Edit