Ad blocker interference detected!
Wikia is a free-to-use site that makes money from advertising. We have a modified experience for viewers using ad blockers

Wikia is not accessible if you've made further modifications. Remove the custom ad blocker rule(s) and the page will load as expected.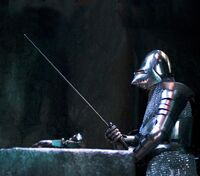 Knight, an old title for a person that gave his sword and life in the service of others, to fight for them, or in the service of a cause or belief. It entitles the bearer to be addressed, in English, as 'Sir'.
Cameron Mitchell fought a holographic image of a knight in the caverns of Avalon, and won after having a tough battle. (SG1: "Avalon, Part 1")