Olokun
Talk

0
10,022pages on
this wiki
Olokun
Biographical information
Race
Home planet

Unknown

Gender

Asexual (male personality)

Died

c. 2005

Political information
Rank
Allegiances

Himself

Out of universe information
Appearances

"Summit"
"Last Stand"

Actor
Olokun was a Goa'uld System Lord.
Biography
Edit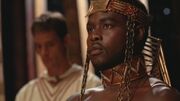 Olokun was one of the System Lords who was present at the Goa'uld summit which was discussing forming a new order to fight against their mutual unknown enemy, who was later revealed to be Anubis. Olokun had lost one of his motherships to Anubis when the Jaffa aboard surrendered the vessel and switched sides. Yu believed that Olokun would attempt to kill him at this meeting in spite as Yu's forces had recently defeated Olukun's. He was as surprised as the other Goa'uld when Osiris arrived and revealed himself to simply be a representative of Anubis and, despite Yu's opposing vote, agreed with the other System Lords to permit Anubis to rejoin the System Lords. (SG1: "Summit", "Last Stand")

He had sent a Jaffa by the name of Ahruk to capture the planet Oyoro for him, believing it to be a fertile planet with great resources. However, Ahruk had been met with resistance and had thus took his role on the planet much more seriously than Olokun had intended, claiming himself to be an "emperor" and wishing to unite the planet under his own rule as well as deciphering the workings of an ancient device which had once turned the planet from being fertile into its now barren form. An SG team soon arrived on the planet, however, and caused some trouble.
At some point, Olokun managed to acquire an ancient device which he was very protective of. The Ohnes managed not only to learn of this, but had in fact managed to see it. It was perhaps because of this that they started sabotaging Goa'uld crafts and technology; sabotage that was eventually discovered by an SG team. (RPG: "System Lord Plot Hooks")
Most of his fleet was wiped out in 2004 by Anubis, but Olokun was not among the casualties. However, he was killed along with Bastet when Ba'al gained control of the Kull warriors. (SG1: "Death Knell", "It's Good to Be King")
External links
Edit