Oranian pistol
Production information
Manufacturer
Model

Personal weapon

Type

Energy weapon

Technical specifications
Discharge

Energy blasts

Control systems

trigger

Usage
Affiliation
The Oranian pistol was a type of energy weapon created by the Oranians. They were hand-held energy weapons capable of wounding targets.
Tenat and Jup used two of these pistols when bargaining with Daniel Jackson. (SG1: "Prometheus Unbound")
Behind the scenes
Edit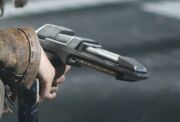 The pistol prop was reused for the Unknown Aliens in "The Daedalus Variations".