The Oranian pistol was a type of energy weapon created by the Oranians. They were hand-held energy weapons capable of wounding targets.
Tenat and Jup used two of these pistols when bargaining with Daniel Jackson. (SG1: "Prometheus Unbound")
Behind the scenes
Edit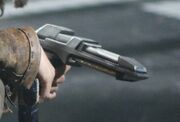 The pistol prop was reused for the Unknown Aliens in "The Daedalus Variations".
Ad blocker interference detected!
Wikia is a free-to-use site that makes money from advertising. We have a modified experience for viewers using ad blockers

Wikia is not accessible if you've made further modifications. Remove the custom ad blocker rule(s) and the page will load as expected.