Patrick Gilmore is a Canadian actor in the Stargate series. He has also been seen in other SyFy shows such as Battlestar Galactica and Eureka.
Patrick is one of the few actors, who appear in all three Stargate shows (Stargate SG-1, Stargate: Atlantis, and Stargate: Universe).
His father, Tom Gilmore, played professional hockey with the Edmonton Oilers.
External links
Edit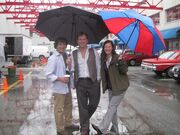 Ad blocker interference detected!
Wikia is a free-to-use site that makes money from advertising. We have a modified experience for viewers using ad blockers

Wikia is not accessible if you've made further modifications. Remove the custom ad blocker rule(s) and the page will load as expected.