Ad blocker interference detected!
Wikia is a free-to-use site that makes money from advertising. We have a modified experience for viewers using ad blockers

Wikia is not accessible if you've made further modifications. Remove the custom ad blocker rule(s) and the page will load as expected.
Peter Grodin
Biographical information
Race
Home planet
Gender

Male

Born
Died
Political information
Rank

Civilian (holds the title of Doctor)

Allegiances
Out of universe information
Appearances
Actor
Peter Grodin was an engineer and adviser to Dr. Elizabeth Weir in Atlantis with the Atlantis expedition. Grodin was British, held a PhD, and was a scientist, as well as a Spanish speaker up until his death in 2005.
Biography
Edit
While assigned to the Ancient outpost in Antarctica, Grodin studied the Ancients' drone weapons. He was efficient and considerate, often taking Weir's needs ahead of his own, displaying the best traits of a true English gentleman. He was also well-versed in wormhole physics. (SGA: "Rising")
After the Expedition had settled, Grodin worked with Weir to ensure everything was set up, including the proper placement of supplies, quarters, and the removal of all the dead plants. He then worked to shut down the Naquadah generators in order to keep the Shadow creature from feeding off them. (SGA: "Hide and Seek")
When Major John Sheppard's team got their Puddle Jumper lodged in a Stargate, he was part of the science team working to solve the problem. (SGA: "Thirty-Eight Minutes")
After Major John Sheppard's team infiltrated a Hive Ship and obtained the Wraith data storage device, he accessed the information and determined that there was at least 60 Hive Ships in the Pegasus galaxy. (SGA: "Underground")
When an Ancient nanovirus began to infect several expedition members, he worked in Stargate Operations to override the Quarantine lockdown. (SGA: "Hot Zone")
A short time later, he was working to activate a Biometric Sensor Array. When Sheppard brought Chaya Sar to Stargate Operations, she touched the device and activated it. (SGA: "Sanctuary")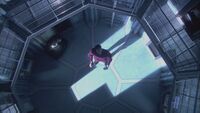 During the Battle of Atlantis, he traveled in a Puddle Jumper to the Lagrangian Point satellite with Dr. Rodney McKay and Lt. Lou Miller. They successfully recharged and rerouted the power to the satellites weapon but he was trapped inside. He powered down the satellite until the Wraith were in position and then fired on the first Hive ship destroying it. Unfortunately, this overloaded the circuits and the satellite was unable to fire again. The Wraith then fired on it and he was killed making him the first human casualty of the Battle of Atlantis with his death leaving the Expedition greatly devastated. (SGA: "The Siege, Part 1")
Alternate timeline
Edit
In an alternate timeline, the "first" time the Expedition arrived in Atlantis, there was no fail-safe to release the city from the ocean floor when the shield failed and the city completely flooded. He attempted to halt the failure of the shield but drowned together with Rodney when Stargate Operations flooded. (SGA: "Before I Sleep")
Behind the scenes
Edit
External links
Edit