Ad blocker interference detected!
Wikia is a free-to-use site that makes money from advertising. We have a modified experience for viewers using ad blockers

Wikia is not accessible if you've made further modifications. Remove the custom ad blocker rule(s) and the page will load as expected.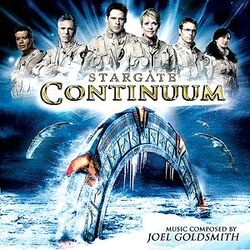 The Stargate: Continuum soundtrack is a one-disk collection of 24 tracks, composed by Joel Goldsmith, from Stargate: Continuum. The CD is approximately 55 minutes in length and was created by a symphony orchestra and choir. It was released on August 12, 2008. The score has many highlights and is accompanied by an amazing 24-page, full color booklet that includes articles by Brad Wright, Robert C. Cooper, Martin Wood, and Joel Goldsmith. Also included is original artwork designed by the FreeClyde team and exclusive photography from the film.
A Day At S.G.C.
The List
Murderer Of Untold Millions
The Achilles Commandeered
The Last Of The System Lords
For The Good Of Others
The Sinking Of The Achilles
Endless Horizons
Breaking The Ice
New Identities
Baal Divided
Bring A God To Tears
Daniel's Book
Al'kesh Invasion
Photograph
Apophis
The Armada
Quetesh Takes Over
Battle Over The Ocean
The Machine
Fall Of The Heroes
End Of The Reign
The Extraction
O'Neill Buys Lunch / End Title Reprise