Ad blocker interference detected!
Wikia is a free-to-use site that makes money from advertising. We have a modified experience for viewers using ad blockers

Wikia is not accessible if you've made further modifications. Remove the custom ad blocker rule(s) and the page will load as expected.
Stargate SG-1 Das Album
is a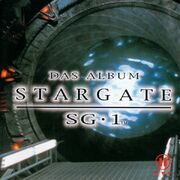 German-exclusive trance soundtrack released by
BMG
on August 9, 1999. The soundtrack is comprised of music by various trance artists.
Tracks 1 and 19 contain elements of "Stargate Overture" by David Arnold.
Stargate (Ra-dio Mix) - D_Formaz
Brilliant (Single Cut) - Nostrum
Night Scene - Oliver Morgenroth
A-T's - Light Inc.
Fireworx - D-Force (3)
Devine - Torwächter
8:30 A.M. - Plutonia (3)
Is Anybody Out There - Outer Zone
Pyramiz - D_Formaz
Steps Ahead - De-Phazz
SG1 - SG1
Hellracer - Mike B.
The Quality (Of The Imagination) - The Man in the Hat
Inspira Luz (Bulerias Mix) - Dominic Sangeet & Shiva Chandra
Follow Me - Morgenroth
Yo Yomma - DJ Shakrokh
Embrace - Phantom Funk
P.M. Doom - Micatone
Stargate (Gated Mix) - D_Formaz
Stargate - D_Formaz
Edit
A single cd by trance artist D_Formaz was also released in Germany on August 9, 1999 by
BMG
and Marlboro Music.
Tracks 1 through 4 contain elements of "Stargate Overture" by David Arnold.
Stargate (Kay Cee's Radio Mix) - Kay Cee
Stargate (Ra-dio Mix)
Stargate (Kay Cee Remix) - Kay Cee
Stargate (Sternentor Mix)
Pyramiz