Ad blocker interference detected!
Wikia is a free-to-use site that makes money from advertising. We have a modified experience for viewers using ad blockers

Wikia is not accessible if you've made further modifications. Remove the custom ad blocker rule(s) and the page will load as expected.
Steven Caldwell
Biographical information
Race
Home planet
Gender

Male

Political information
Rank
Allegiances
Out of universe information
Appearances
Actor
"Well, I have to warn you that I'm a career military strategist."
―Steven Caldwell
Steven Caldwell is a Colonel in the United States Air Force and the Commander of the Daedalus.
Biography
Edit
Caldwell led the reinforcements to aid the faltering Atlantis expedition members several months into their entry into the Pegasus Galaxy. He and his ship arrived at Atlantis just in time to rescue the then-Major John Sheppard from his suicide mission to destroy one of the Wraith Hive Ships in orbit over the besieged planet. He destroyed the last remaining Hive Ship by beaming a Nuclear warhead inside. After twelve more Hive Ships were detected heading toward Atlantis, he took the Daedalus to the spot where they would exit hyperspace. They destroyed another two Hive Ships, but the Wraith developed countermeasures preventing beaming of nukes onto their ships. He then ordered them to enter hyperspace but not before sustaining damage. After a plan was devised to cloak the city, he had the Daedalus beam a nuke above the city's shield to fake a Self-destruct. (SGA: "The Siege, Part 3")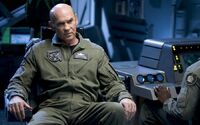 When several senior members of the expedition returned to Earth, Caldwell was led to believe that he would take over the command of the military contingent of the Atlantis expedition. He later found himself rebuffed when the head of the expedition, Dr. Elizabeth Weir, adamantly refused to accept any other military officer than Major John Sheppard, who received a promotion to Lt. Colonel in response to her insistence. Caldwell escorted the senior members back to Atlantis, but some friction continued to occur between Caldwell, Weir, and Sheppard in regards to Sheppard's position but they were able to work together to eradicate the Wraith computer virus that had taken control of the Daedalus. (SGA: "The Intruder")
When Major Evan Lorne discovered a dead Wraith that was possibly killed by Lt. Aiden Ford, he reminded Lt. Colonel John Sheppard that if he could not capture Ford he was duty bound to eliminate the threat. (SGA: "Runner")
When Lt. Colonel John Sheppard's team discovered the Doranda outpost, he was very interested in the weapon powered by the Ancients' last great experiment, Project Arcturus. When Dr. Elizabeth Weir shut down the project, he was going to advise his superiors to restart the project, feeling that Elizabeth was too focused on the fact that the Ancients had failed when they carried out the project to consider the possibility that it had failed because the Ancients were wrong rather than that the Project was impossible. When Dr. Rodney McKay convinced Sheppard and Weir to restart it themselves, he stopped by Doranda on the Daedalus' trip back to Earth. When the weapon overloaded, he used the Daedalus to block the weapons fire from hitting the Puddle Jumper until it could retreat into the Stargate. (SGA: "Trinity")
When Lt. Colonel John Sheppard was infected with Iratus bug retrovirus, Caldwell took control of the military contingent until Sheppard was fully recovered. He implemented several new security protocols that Dr. Elizabeth Weir considered to be too soon when they were still examining Sheppard's condition. (SGA: "Conversion")
When Atlantis discovered the Ancient ship Aurora, he used the Daedalus to transport Lt. Colonel John Sheppard's team to its location. He ordered Captain Dave Kleinman to destroy the Wraith scout ship that was about to attack them. When he detected two Wraith cruisers on their way, he intended to destroy the Aurora before they arrived but Sheppard was given the self-destruct from the Captain of Aurora which destroyed both cruisers. (SGA: "Aurora")
A short time later, he commanded the Daedalus during the Battle of Edowin. After Lt. Colonel John Sheppard managed to get the Hive Ships to destroy each other, he called off the search believing he was killed in the explosion. (SGA: "The Hive")
Caldwell continued to travel back between Earth and Atlantis, making supply runs and helping to defend against the Wraith. In time, it was discovered that Caldwell had been compromised by a Goa'uld working for The Trust. Atlantis was nearly destroyed as a result, but after Lt. Colonel John Sheppard taseres him, Caldwell managed to regain control of his body long enough to tell them the desperately needed access code to save the city. Hermiod was later able to remove the symbiote with beam technology. How long he was under their control is unknown. (SGA: "Critical Mass")
Following this, his relationship with Lt. Colonel John Sheppard and Dr. Elizabeth Weir greatly improved. He assumed brief control of Atlantis when both Sheppard and Weir were possessed by two rogue alien consciousnesses named Thalan and Phoebus who wanted to kill each other in hopes of winning a war that had destroyed their planets many years ago. Weir later thanked him for keeping an explosive situation under control. Caldwell was one of the few people who truly believed they were back to normal as he was the one person who could understand what they went through and even joked with the two about a kiss Thalan and Phoebus shared while controlling them, greatly embarrassing them. (SGA: "The Long Goodbye")
When the Stargate on Taranis was destroyed by the Volcano, Dr. Elizabeth Weir diverted the Daedalus on its way back from Earth. When he arrived and scanned the planet, he determined that it would take four trips to evacuate the planet. He beamed the first group of Taranians and transported them back to Atlantis. When he returned, he beamed Teyla Emmagan and Ronon Dex on board but the rest of the population was evacuated to the Orion. (SGA: "Inferno")
When Michael Kenmore returned to Atlantis with his Hive Ship to form an alliance with the Atlantis expedition, he and the Daedalus were sent on a mission to test the effectiveness of the Iratus bug retrovirus on a Hive Ship. When the exited hyperspace, they were immediately fired upon by both Hives. The Hives then entered hyperspace. He returned to Atlantis and was informed they were on their way to Earth. (SGA: "Allies")
The Daedalus was then dispatched to intercept the Hive ships on their way to Earth, he instructed Captain Dave Kleinman to configure all of the Daedalus's missiles to launch as soon as the ship exited hyperspace, a task that he doubted was possible, but nonetheless managed to accomplish. Most of the nukes were intercepted by the Wraith Darts but one managed to severely damage one of the Hives. He continued to engage that Hive while the Orion engaged the other. When the Orion destroyed its Hive, the other Hive shifted its fire to the Orion. He ordered Kleinman to beam the crew to the Daedalus and aim all Railguns on the Dart bay and hold fire. He then beamed Lt. Colonel John Sheppard, Dr. Rodney McKay, Ronon Dex and Michael Kenmore from the Wraith scout ship to the bridge. When the Hive launched Darts, he ordered all batteries to open fire. This crippled the Hive but the Daedalus's shields were depleted and the ship suffered severe damage. With life support offline and no means to repair it, he beamed the Iratus bug retrovirus on board the Hive. After it ran its course, he beamed most of the crew to the Hive. (SGA: "No Man's Land")
He then traveled back to Atlantis, when the Hive ship towed the Daedalus through hyperspace. After Atlantis detected a Hive ship heading towards the planet they left the transformed Wraith. He was unable to assist at first because repairs had not been completed on the Daedalus. Once repairs were complete, he arrived to find the wreckage of the Hive Lt. Colonel John Sheppard's team had taken to the planet. He feared the worst but Sheppard soon contacted him from a cloaked Puddle Jumper. (SGA: "Misbegotten")
Caldwell did not want to rescue Ronon Dex when he was taken prisoner and given to the Wraith during an away mission, as he believed the risk was too great. He also implied that Lt. Colonel John Sheppard's team gets into trouble often. His hesitation to put his crew at risk again was understandable since shortly before he had been asked to take his badly battered ship and crew to try to stop the two Wraith Hive Ships heading to Earth. He eventually agreed to get them close enough to take a cloaked Puddle Jumper. (SGA: "Sateda")
Later, during the first test of the McKay/Carter Intergalactic Gate Bridge he was commanding the Daedalus. During the test, the Tria went by he offered their assistance. Later on, after the Asurans' take over of Atlantis, he was sent back to Pegasus carrying a bomb to destroy Atlantis. He was called off by Dr. Elizabeth Weir and Major General Jack O'Neill, after they had retaken the city. (SGA: "The Return, Part 1", "The Return, Part 2")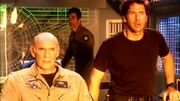 When a group of Flagisallus surrounded Atlantis and their sonar began causing damage to the Atlantis expedition, he beamed personnel to the Daedalus to relieve their pain. When Dr. Rodney McKay discovered the Flagisallus were there to warn them of an eminent Coronal mass ejection, he used the Daedalus's shield to deflect the ejection away from Lantea. (SGA: "Echoes")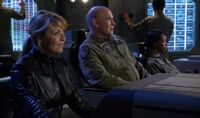 Some time later, Caldwell led the USAF Daedalus, alongside the USAF Apollo, in a strike against numerous Aurora-class battleships controlled by the Asurans. Using their new Asgard weapons, they were able to destroy seven of the Warships, before participating in the Battle of Asuras, where victory was finally secured. (SGA: "Be All My Sins Remember'd")
When Teyla Emmagan was captured by Michael Kenmore, he escorted Lt. Colonel John Sheppard's team to the planet given to them by Todd. Once there, Michael's cruiser arrived with Teyla on board. He attempted to cripple the ship without destroying it but it entered hyperspace. (SGA: "The Kindred, Part 1")
When Michael's facility on M2S-445 was destroyed by a booby trap, the Daedalus was sent to rescue the team. To Caldwell's frustration, he once again could not destroy Michael's cruiser due to the presence of Teyla onboard. Upon learning that the ship was attempting a jump to hyperspace, Caldwell ordered Marks to target the enemy ship's hyperdrive, successfully preventing Michael from once more escaping. After learning of Sheppard and Ronon's predicament, Caldwell reluctantly ordered the Daedalus shields lowered so that they could beam the two out. As a result, the Daedalus was left crippled. When Sheppard proposed an F-302 strike to take out the cruiser's main weapons as well as allow a rescue of Teyla, Caldwell approved the mission. Sometime later, Marks informs Caldwell that they have a Wraith Dart contacting them and Caldwell is surprised to learn its Sheppard. After learning that Sheppard has his team, Teyla and Teyla's baby onboard, Caldwell orders Marks to destroy Michael's cruiser. Once the cruiser is gone, Caldwell informs Sheppard he could now use the Stargate to return to Atlantis. (SGA: "Search and Rescue")
After Sheppard's team disappears on Admah, Richard Woolsey contacts the Daedalus and Caldwell to rescue them. However, Caldwell informs him they can't reach Admah in time. Instead, Woolsey has Caldwell divert to M3T-842 where the team is trying to escape to. Caldwell later contacts Woolsey to let him know that the Daedalus has arrived and has picked up both Sheppard and Lorne's teams, but warns that they are cut off from the Stargate and the Daedalus is likely unable to beam them out due to the massive Wraith presence on the planet. Instead, Caldwell offers to lay down some brief covering fire for the teams so they can escape through the Stargate though he warns he won't have long to do so before the Daedalus will have to flee. As promised, Caldwell lays down covering fire that allows Sheppard and McKay to make it to the Stargate and escape. Sheppard later asks Woolsey to thank Caldwell for his timing with the rescue. Afterward, Caldwell broadcasts the destruction of Admah to Atlantis as the team wanted. (SGA: "Brimstone")
Soon after, while shuttling members of the Atlantis expedition to a meeting with the Wraith known as Todd, he, along with the rest as the Daedalus's crew, were incarcerated after Todd believed that the Atlantis Expedition had activated the Attero device. The crew were eventually freed by Ronon Dex, but the Wraith abandoned the ship, setting it on a suicide run at the facility containing the Attero device. However, Sheppard, piloting Katana Labrea's ship, is able to save the Daedalus and her crew. (SGA: "First Contact", "The Lost Tribe")
Caldwell and the Daedalus later attempted to stop the Super-hive before it was fully upgraded but his ship was utterly outmatched, only managing to escape when the hive jumped into hyperspace to attack Earth. (SGA: "Enemy at the Gate")
During the Battle over the Outer Rim Planet, Caldwell works with Colonel Carter and the George Hammond to destroy an attacking hive ship and Wraith cruiser. After the Daedalus is disabled, Caldwell works to try to repair the ship to aid the Hammond in battle. After the Hammond destroys the hive ship but is left crippled, Caldwell has Carter beamed aboard the Daedalus, saving her life. As Atlantis has no ZPM and the Hammond is still crippled, Caldwell decides to take the Daedalus back to Earth to report. He leaves the Hammond his F-302 wing and takes aboard the critically injured from the battle to send to the SGC at the first Milky Way Stargate he comes across. (SGA: "Allegiance", "The Furies")
External links
Edit