The Storm
Talk

6
10,022pages on
this wiki
This episode is part 1 of 2; it is followed by "The Eye".
"The Storm" is the tenth episode of the first season of Stargate: Atlantis.
A storm covering 20% of Lantea that strikes every 20 to 30 years is brewing and is heading straight for the mainland, and then Atlantis. As most of the expedition takes shelter on Manaria, a small group stays behind to work out how to save the city. Unfortunately, a Genii strike team, led by Commander Acastus Kolya plan to seize Atlantis for the supplies the expedition promised them, and takes everyone prisoner.
Previously on Stargate: AtlantisEdit
Major John Sheppard's team meets the Genii, a seemingly primitive society but discover this is just front for an advanced culture living in an Underground Bunker. Sheppard and Cowen, the leader of the Genii, decide to form an alliance but Sheppard informs him the Wraith have awakened and the Genii plan to destroy the Wraith as they sleep with atomic weapons five years from now was no longer possible. In order to advance the timetable for the plan Dr. Rodney McKay helps speed up the creation of atomic weapons and Sheppard and Cowen plan a recon mission to a Hive ship. On the mission, Tyrus is stunned and Teyla Emmagan is forced to leave him behind. When the team returns to the Genii homeworld, Sora Tyrus blames Teyla and Cowen warns Sheppard not to make an enemy of the Genii.
Major John Sheppard and Teyla Emmagan have taken a Puddle Jumper on a course for Lantea's mainland. Cruising at a relatively high altitude, they encounter a storm front that stretches across the entire horizon. Sheppard takes the Jumper into space to better analyze the storm. Not only does it take up twenty percent of the planet's surface, but its heading for both the Athosian mainland and Atlantis.
Back at the city, Dr. Rodney McKay and Dr. Radek Zelenka discuss the problem. The weather pattern is actually two storms converging and combining power. With the shield off, Atlantis is incredibly brittle. Winds will cause massive structural damage and flooding could sink the city. There is simply not enough power to activate it. In twelve hours the storm front will hit.
Dr. Elizabeth Weir instructs Sheppard to take Lt. Aiden Ford and find a world that will be willing to put up with a hundred squatters for two days. They travel to Manaria and grudgingly reach a tentative arrangement with Smeadon, insuring that their generosity will not be forgotten. After they depart, Smeadon takes a Genii communicator from a drawer and prepares to transmit a message to Cowen ("Underground").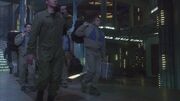 McKay and Zelenka believe they have arrived at a plan, which they present to Weir. Atlantis has many lightning rods channeled into four Grounding stations. Typically when lightning strikes the city it is channeled back into the ocean via the stations. If the rods are disabled the energy from the lightning could be channeled to generate the shield bubble. Several corridors are lined with a super-conductive material, indicating this to be the reason. Still, everyone would need to evacuate, as only the control room would be safe, but Atlantis would survive. Weir encourages them to double their efforts.
A man faces off, defenseless, against three Genii armed with staffs. One of them is Sora Tyrus. Just as he finishes disabling her, the last to stand, he is stopped by a young soldier who identifies the remaining combatant as Commander Acastus Kolya. Cowen wishes to see him immediately. It is obvious that Cowen has been informed that Atlantis will soon be evacuated, and asks Kolya to ready his strike force to place the Genii flag in the city after it is emptied.
Back in the mainland, Teyla, Ford and Dr. Carson Beckett are awaiting the arrival of an Athosian hunting party. To go after them would be impossible. The storm will soon be upon them, but Ford decides to keep waiting.
With Atlantis evacuated (save for two soldiers and the command team), the Athosians have joined the humans on Maniaria. Smeadon dines with Doran, getting him so drunk that Sora and Kolya enter and capture his Garage Door Opener, eventually forcing him to agree to get them through the Stargate shield that protects Atlantis.
McKay delegates grounding stations to the three who remain. He will deactivate station one; Weir, station two; Sheppard, stations three and four. McKay and Weir are done before John reaches his first station. Rodney instructs him on how to disconnect the halves of the grounding rods. Sheppard is soon successful. Just then, the soldiers guarding the gate report to Weir that an incoming party from Manaria contains injured Athosians. With an Athosian IDC, they lower the shield. Soon Kolya and his men enter through the gate and kill both guards. Kolya orders the gate room secured. Soon he is introducing himself to Weir and McKay and tells them that he is now in control of Atlantis.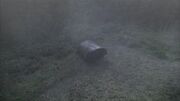 Sheppard, overhearing the entire conversation via active comm channels, hurries to the Jumper bay to communicate with Ford's team. He is surprised to learn that they are still in the mainland, but also frustrated that he's not going to receive backup. Still, he encourages them to stay put until the storm has passed.
Kolya's demands are simple. He wants all of the C-4, medical supplies, a Puddle Jumper and the Wraith data storage device and his team will leave without incident—or so he says. Sheppard, who has overheard this, immediately goes and hides the explosives. Meanwhile, McKay is left alone with Kolya, whose men holds the squeamish scientist captive with a knife.
Weir returns and finds McKay's arm bleeding heavily. He says he caved, but it is not clear what information he has given out. Meanwhile, the soldiers return with no C-4; only a radio with Sheppard on the other end, saying Kolya will never locate the explosives. But Kolya is aware of the plan to save Atlantis. He tells Sheppard to uncouple the final grounding rod and make it so the shield will work, and Kolya will allow them to leave peacefully. "Atlantis will be ours or the oceans," he says.
Weir attempts to dissuade Kolya from what he is doing, ensuring that the descendants of the Ancients are the ones who are meant to use Atlantis to destroy the Wraith, but Kolya is amazed by her arrogance, believing his people may be equally -- or more -- close to the ancestry of the Ancestors. He intends to use Atlantis himself to destroy the Wraith.
Sheppard arrives at the fourth grounding rod and uses an Ancient scanner to locate the two Genii soldiers in hiding, killing them and evening the score. But in the firefight one of the soldiers has destroyed the grounding controls. There is now no way to separate the rod, and Atlantis is doomed. Kolya is not finished, though. He tells Sheppard that he's going to shoot Weir. Sheppard warns that he will destroy the city if that happens, but Kolya knows that two command codes are required. As Sheppard begins to bargain, Kolya raises his weapon against her.
References
Edit
Ancient; Ancient Technology Activation gene; Antibiotic; Athos; Athosian; Atlantis lightning rods; Atlantis' shield; Atlantis transporter; Bacon; C-4; Canada; Czech Republic; Dinosaur; FN P90 Personal Defense Weapon; Foothold situation; Garage Door Opener; Genii; Genii communicator; Genii homeworld; Genii invasion of Atlantis; Genii pistol; Genii shotgun; Grounding station; Halling; Lantea; Lantea's mainland; Lantea's ocean; Lantean storm; Life signs detector; Lightning; Manaria; Manarian; Moonshine; Naquadah generator; Puddle Jumper; Stargate shield; Star Trek; Superman; Theory of Relativity; Titanic; Tyrus; Underground Bunker; Wraith; Wraith data storage device
Notable Quotes
Edit
Ford: How could something as big as Atlantis just sink?
Sheppard: I'm sure the passengers on the Titanic were asking themselves the same question.
Sheppard: McKay will come up with something.
McKay: I will try, but despite what you all may think, I am not Superman.
(Sheppard looks around)
Sheppard: Was anyone seriously thinking that?
(Weir, Teyla and the other scientist shake their heads 'No')
Ford: No sir.
Zelenka: Never.
(The science team is trying to come up with a solution to a problem while being very short on time)
McKay: You're right. If only we had a magical tool that could slow down time. I foolishly left mine on Earth - did you bring yours?
Zelenka: You know, you're not pleasant when you're like this, McKay.
McKay: I'm always like this.
Zelenka: My point exactly.
McKay: I'd give us a better than 90%-
Zelenka: -70-
McKay: 80% chance.
Weir: The city can handle that?
McKay: Yes. Theoretically.
Sheppard: Like "dinosaurs turned into birds" theoretically or "theory of relativity" theoretically?
McKay: (looks confused, since there is no "hierarchy" of theories) What? Um, somewhere between.
Sheppard: Wait a second, are these things even close to a transporter?
McKay: Uh... yes. Elizabeth's is.
Sheppard: And mine?
McKay: It's a brisk walk away.
Sheppard: And by "brisk" you mean "far"?
McKay: (nods) And by "walk" I mean "run".
Soldier: Bacon.
Other Soldier: The one thing you wish you brought with you is bacon.
Soldier: Hey, it's the food that makes other food worth eating.
Other Soldier: You wish you brought bacon to another galaxy?
Sheppard: I'm not finished yet!
Kolya: Neither am I. Say good-bye to Dr. Weir.
Sheppard: The city has a self-destruct button. If you hurt her, I'll activate it. Nobody'll get Atlantis.
Kolya: Even if it exists, Major, you need at least two senior personnel to activate it. And I'm about to take one of them out of the equation.
Sheppard: Kolya!
During most of this episode Dr. Radek Zelenka loses his accent.
While Commander Acastus Kolya is practicing his defense arts with sticks, there are two types of fighting sticks – one with stripes and one plain. During an interlude in the exercise, a striped stick is handed to a woman and a plain stick is handed to a man. In the next immediate scene, the same woman is standing with the plain stick.
Around minute 39, a conversation takes place between 2 technologies, Major John Sheppard talking into the Genii communicator while Kolya answers back on the Tau'ri radio. While this is technically possible, if they both are either FM or AM and on the same frequency, it is an unlikely coincidence. Made more problematic by military radios using encryption.
When Teyla Emmagan, Lt. Aiden Ford and Dr. Carson Beckett are outside the Puddle Jumper bringing in the Athosians, it is raining; however when they enter the Jumper all three of them show no signs of being wet.
Ladon at aprox. 10:25, sends Sheppard's position as 5 feet away from the Genii team, this is incorrect as it is extremly unlikely for the Genii to even know the imperial system of units.
Nominations
Edit
First appearances
Edit
Characters
Edit
In other languages
Edit
German: Der Sturm
Poland: Cyklon
Czech: Bouře (The Storm)
French: En Pleine Tempête (In the Middle of the Storm)
Italian: L'Uragano (The Hurricane)
Spanish: La Tormenta (The Storm)
External links
Edit