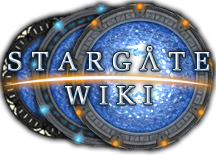 Jaffa, Kree!
Hello, Gormagon, and welcome to the Stargate Wiki! I've noticed that you've already made some contributions to the Olesian ore page -- thank you! We all hope that you'll enjoy our activities here and decide to join our community.
If you'd like to learn more about working with the nuts and bolts of this wiki, I have a few links that you might want to check out:
One other suggestion: If you're going to make comments on talk pages or make other sorts of comments, please be sure to sign them with four tildes (~~~~) to paste in your user name and the date/time of the comment.
If you have any questions, please feel free to post them in the forum, ask me on my talk page or check out our Community Portal.
Thanks, and once again, welcome to Stargate Wiki! -- Jaymach (Talk) 19:46, 2 May 2011
Please stop trying to advertise your fan-site here. It adds nothing relevant to either the articles or their talk pages. — Trust not the Penguin (T | C) 23:21, June 25, 2011 (UTC)
Regardless of whether or not you're actually linking to your fansite, your sole reason for posting is to advertise it. This wiki is for the actual materials related to the franchise (TV, movies, books, etc.), not fansites. If you were actually contributing, I wouldn't be removing your posts. But you're not. You're just spamming. — Trust not the Penguin (T | C) 19:43, June 27, 2011 (UTC)
No wiki can control how wikia advertises. Your comparison is flawed. It doesn't matter if nothing new is coming in. That doesn't give you or anyone else an excuse to add whatever they want. This wiki is for licensed works. — Trust not the Penguin (T | C) 19:55, June 27, 2011 (UTC)
You're still missing the point. You're not helping anything. Your wiki has no information that isn't a complete fabrication. This wiki exists to give information that is actually relevant to the series, not fanon. And again, no one can control how wikia arranges its external links. Any links to other wikis are there to facilitate browsing and cannot be controlled by individual wikis. — Trust not the Penguin (T | C) 04:02, June 28, 2011 (UTC)
I send Jaymach a message about this, so let's put up a ceasefire for now. But Gormagon, you are wrong, Your GWF is not relevant so Stargate, it's as relevant as admin Anubis's SG dreams and my own imaginations of SG space battles that never happened. None of your contributors (either of them) is a contributor to the franchise. And your advertisements were not a single sentence. Each of them was a paragraph. And spamming is forbidden, it doesn't take a genious to figure that out. Jauh0 (talk) (Contribs) 11:41, June 28, 2011 (UTC)
And GWF suxxxx. I couldn't even finish your so "adniliooikfsomething" article because it felt like a thousand knives being stabbed into my brain. Jauh0 (talk) (Contribs) 16:01, June 28, 2011 (UTC)
Vandal? Please, I have a life. If I'm the "only person" to not like adnililoijooie then, that puts the disapproval rate at about 50%. And if your actions here are approved by the admins, then I'm going to start using your petty excuse of a site to advertise stuff too. Let's see how you like a big VISIT THESPOONYEXPERIMENT.COM on your page.
And once again, you site IS NOT RELEVANT TO ANYTHING. Jauh0 (talk) (Contribs) 22:02, June 28, 2011 (UTC)
Well it's not entertaining. I am currently reading some books, those are properly done written entertainment. Jauh0 (talk) (Contribs) 09:54, June 29, 2011 (UTC)
I read another article, and I have to say this: You are not creating your own fanfiction, you are just stealing stuff from other scifi and calling it your own. You should atleast have the courtesy of doing a paint-job on the stolen car. Jauh0 (talk) (Contribs) 20:18, June 29, 2011 (UTC)
You just don't get it, do you? You aren't borrowing, you are stealing! Reapers (Wanting to destroy all life) in Dark Space: Mass Effect. Adnihilo trapped in time dialation field until time x: The Hitchhiker series. Your picture of the Reaper harvesters: Resistance. Just have the commom courtesy of at least trying to cover it up. And you are perfectly able to make your own illustrations, so don't steal them. And the grammar sucks. And the writing falls flat on its face. It's not dramatic at all when it tires to be. Jauh0 (talk) (Contribs) 09:15, June 30, 2011 (UTC)
Then go back and make it better, wtf are you doing here? Go to other fan sites to recruit, this wiki based on facts, we are all fans here, but this is only a database. If you want to be heard go to gateworld or other such site. When you want something done, do it yourself. And the grammar does fail. If you can't see it then you fail. Jauh0 (talk) (Contribs) 17:06, June 30, 2011 (UTC)

Hi there Gormagon...sorry for taking so long to get back to you, I've simply been away from my home for some time now so have had little access to the internet. While the above users are indeed correct, in that we wouldn't want so many links to an external site on talk pages (as it's considered spamming), I'd like to apologize for the way in which this message was passed over to you and for the above conversation insulting your website. While it may not be for all, I know a lot of hard work will have went into it all. If your website was to grow in popularity, there would be a possibility of us becoming "partner websites" in the future possibly, but at most that would just be a single link on the main page of this site, with an understanding that it would be reciprocated on yours. I'm afraid that in its current state, however, we would be unable to do this. I'd like to wish you the best of luck on your wiki, however, and please feel free to come back here if you want to add licensed information to any of our articles. —Jaymach Ral'Tir (talk) 01:02, July 7, 2011 (UTC)
No, but I will give up now. I meant "evidence" as in "evidence". Also, our view of "real" apparently conflicts.
But feel free to do what you want on this wiki, I'm gonna resign. Jauh0 (talk) (Contribs) 08:46, September 6, 2011 (UTC)