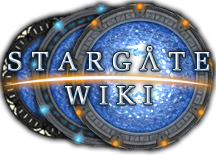 Jaffa, Kree!
Hello, MochaShakaKhan, and welcome to the Stargate Wiki! I've noticed that you've already made some contributions to the Talk:Alternate timeline page -- thank you! We all hope that you'll enjoy our activities here and decide to join our community.
If you'd like to learn more about working with the nuts and bolts of this wiki, I have a few links that you might want to check out:
One other suggestion: If you're going to make comments on talk pages or make other sorts of comments, please be sure to sign them with four tildes (~~~~) to paste in your user name and the date/time of the comment.
If you have any questions, please feel free to post them in the forum, ask me on my talk page or check out our Community Portal.
Thanks, and once again, welcome to Stargate Wiki! -- Jaymach (Talk) 08:35, 1 June 2011
Hello MochaShakaKhan. When you upload an image, please see if existing/similar images already exist on this wiki. There is no need to have duplicated files of the same/similar image and so any duplicated images uploaded will be deleted. Thanks. —Anubis 10545 (talk) (Contribs) 02:11, June 5, 2011 (UTC)
I'll try to avoid uploading duplicate pics, Anubis 10545.
Vilnisr,I actually disagree. I think it depends on the wikia page. For example, on a page like the Destiny's Infirmary wikia similar pics helps add perspective to the subject in question. It allows you to see the same place from multiple perspectives. Although i do agree that on some pages it does become redundant so I'll try to avoid pics that show the same basic perspective. MochaShakaKhan (talk) (Contribs) 23:43, June 5, 2011 (UTC).