"How exactly is having weapons at maximum going to help the situation?"
Weapons are devices which—as their primary purpose—are made to inflict harm upon or kill other beings, destroy or damage structures, or ships, or to alter others' behavior due to the threat of such harm. Each weapon normally has its own purpose and types.
Weapons which are not intended by design to kill are often termed "less-than-lethal" weapons. Most weapons intended to stun or incapacitate fall into this category. Some normally lethal weapons when used with particular types of ammunition or in certain limited manners may also be considered "less-than-lethal".
Weapons by type
Edit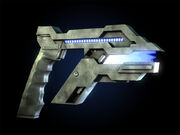 Ground-support
Edit
Small arms
Edit
Projectile
Edit
Primitive
Edit
Ship-based
Edit
Weapons of mass destruction
Edit
Ad blocker interference detected!
Wikia is a free-to-use site that makes money from advertising. We have a modified experience for viewers using ad blockers

Wikia is not accessible if you've made further modifications. Remove the custom ad blocker rule(s) and the page will load as expected.